SAKE TIMESの記事 5番目に「外国人を連れていきたいお店」として紹介
5 – Inishie Sake Store Sheds Light on Aged Sake
Even for those well-versed in sake, the concepts surrounding aged sake can be hard to understand. Inishie Sake Store cuts through the confusing terminology and even lets you sample some finely-aged brands.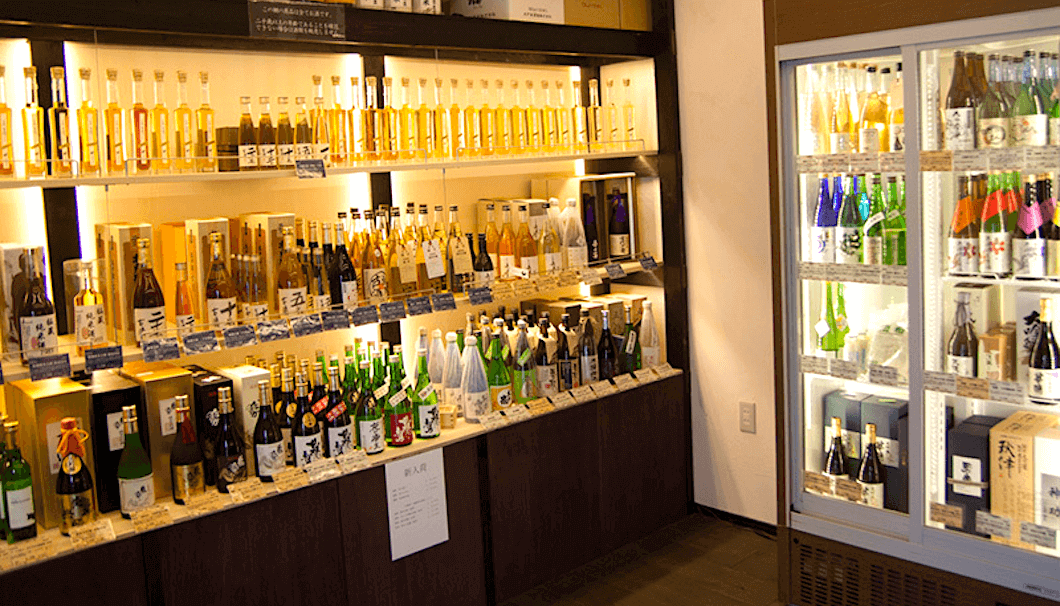 The Store
While you'd normally expect aged sake to be more expensive, Inishie offers lots of reasonably-priced brands ranging from 1,000 to 4,000 yen ($9 to $36) per bottle. They also offer tastings which can range from free to between 200 and 900 yen ($1.80 and $8.10), giving you a good sense of what aged sake has to offer.
The concept of "aged sake" is rather ambiguous though, with different kinds being labeled as "koshu" (aged sake) and "jukusei sake" (matured sake). There isn't a clearly universal distinction between the two, but Inishie went ahead and made one themselves: Koshu is sake that has been aged to the point where its taste has completely changed from its original flavor. Jukusei sake maintains much of the sake's original flavor, with quality accentuated by the aging process.
It's a nice little tidbit of info that can be used to impress others at any sake-serving function, and goes to show that souvenirs don't always have to be throwaway trinkets.
The Location
Inishie is located in Suginami Ward a little to the west of the downtown area of Shinjuku, so it might appear a little more residential with a bit more green space. It's a good place to visit during the traditional Japanese holiday of Tanabata, in July, when scores of large and colorful decorations adorn the Pearl Center shopping street in the Asagaya neighborhood.
Suginami is also home to many animation studios and the Suginami Animation Museum where visitors can learn about the history of Japanese anime with screenings and English language information.
Brands to Try
• Kidoizumi (Kidoizumi Brewery)
• Azumanada (Azumanada Brewery)
• Ryukan (Naeba Brewery)
• Minogawa (Naeba Brewery)
• Sakaemasu (Shimizuya Brewery)
• Sawanoi (Ozawa Brewery)
• Nagaragawa (Komachi Brewery)
• Hanatomoe (Miyoshino Brewery)
• Kurumazaka (Yoshimura Hideo Shoten)
• Tatsuriki (Honda Shoten)
• Ryusei (Fujii Brewery)
◎Shop Information
Name: Inishie Sake Store
Nearest Station: One minute walk from Honancho Station on the Marunouchi Line
Address: 1F 2-18-15 Honan, Suginami-ku, Tokyo
Hours: 2:00 p.m. – 9:00 p.m. (Tue – Fri) / 1:00 p.m. – 6:00 p.m. (Sat, Sun)
Closed: Mondays (also possible irregular closures)
Telephone: 03-4291-4316
Tasting: Yes
English Support: Yes
より
てんよう